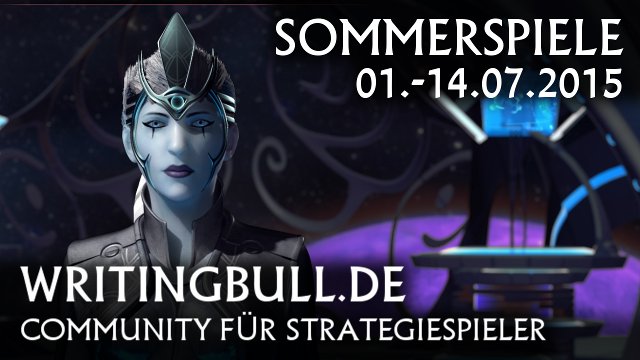 Zu den "Sommerspielen 2015" lädt das Moderatorenteam der Community für Strategiespieler vom 1. bis 14. Juli herzlich ein. Im Begleitforum für meinen YouTube-Kanal bieten wir an sechs Abenden Mehrspieler-Partien zu sechs verschiedenen Strategietiteln an: zu Endless Legend, Beyond Earth, Galactic Civilizations III, Civilization V, Total War Rome II und The Battle of Wesnoth.
Dabei verteilen wir eine ganze Reihe von Preisen, die uns Spielefirmen zur Verfügung gestellt haben. Die Gewinner der Matches erhalten Preise, zudem verlosen wir auch einige Spiele unter den anderen Teilnehmern. Unter den Preisen sind neben Steam-Keys und einfachen Boxversionen auch viele wertvolle, aufwändig gestaltete Sammler- und Spezialeditionen, die zum Teil im Handel nicht erhältlich sind.
Darunter sind zum Beispiel drei Steel-Case-Editionen von Civilization Beyond Earth, drei Exemplare von Tropico V und zwei von Dungeons II (jeweils in der Limitierten Day One Edition), Total War Rome 2 in der Emperor Edition mit T-Shirt und Riesen-Mousepad, je dreimal Civilization V als Complete Edition in der Box, Emergency 5 in der Deluxe Edition mit Miniatur-Feuerwehrwagen sowie die fulminante X Saga Box. Ermöglicht haben das unsere Sponsoren, die Spielefirmen 2K Games, Deep Silver / Koch Media, Kalypso Media, Eurovideo und Overhype Studios – ihnen allen vielen Dank!
Die Sommerspiele wenden sich nicht bloß an die Multiplayer-Veteranen, sondern auch an Neulinge, denen wir beim Plaudern auf unserem Teamspeak-Server Einsteigertipps geben. Es geht nicht um verbissenen Wettkampf, sondern um gemeinsamen Spielspaß. Ausführliche Informationen und Vorstellungen der Spielepreise gibt es in einem Informationsvideo. Wer teilnehmen möchte, findet in unserem Communityforum einen Organisationsthread zu den Sommerspielen.