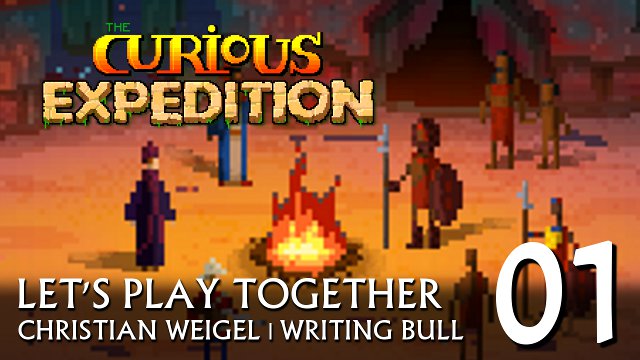 The Curious Expedition heißt ein rundenbasierter Roguelike-Titel, der ins späte 19. Jahrhundert führt, in ein Zeitalter, in der die Landkarten noch große Flecken in Übersee aufwiesen und wissbegierige Abenteurer der Londoner Royal Society zu wagemutigen Exkursionen nach Afrika, Asien und Südamerika aufbrachen.
Als Entdecker und Naturforscher reisen wir in exotische Landstriche, um Schätze zu bergen, mit den Ureinwohnern zu handeln, Jagdtrophäen zu erbeuten und Land und Leute kennenzulernen. Das strategische Abenteuerspiel ist in minimalistischer Pixelgrafik mit warmen Farben umgesetzt, regt die Fantasie an und liefert viele Überraschungen beim Erkunden von untergegangenen Siedlungen, prähistorischen Steinkreisen, Eingeborenendörfern und geheimnisvollen Höhlensystemen.
Gemeinsam mit dem Spielejournalisten Christian Weigel habe ich heute ein Let's Play zu diesem Expeditions-Simulator gestartet. Wer das Spiel selbst ausprobieren möchte: Die beiden Berliner Indie-Entwickler von Maschinen-Mensch bieten ihren Titel in einer Alpha-Version preiswert als Early Access auf Steam an. Auf der gamescom Anfang August werden Christian und ich übrigens Riad Djemili and Johannes Kristmann zu einem Videointerview treffen. Eine Diskussionsmöglichkeit zum Titel biete ich in meinem Forum, der Community für Strategiespieler.